How can we help you?
Here you will find all the frequently asked questions and information about Sant'Orsola and our small fruits. Take a look!
Freshness
How can I figure out if your fruits are fresh? And is it possible to recognize the best products on the shelf?
Small fruits are very delicate and quickly go off. To make sure they are fresh we advise you to check that the fruits are whole, undamaged and well preserved in the store.
Conservation and washing
How can I preserve fruits once I've bought them and opened the packaging?
In order to keep small fruits fresh, they must be kept in the fridge. Ideally consume them as soon as possible once open and remember to wash them just before use. If you're not going to eat all of them at once, wash just the ones you will use. Conserve the remaining fruits in the fridge (without washing them) in their original packaging.
Do I have to wash small fruits before eating them?
Yes. We advise washing them under running water and consuming them as soon as possible after washing.
Origin and availability
What is the availability of your fruits during the year and where do they come from?
Where are Sant'Orsola's production areas?
On the map you can find the regions where we produce our small fruits.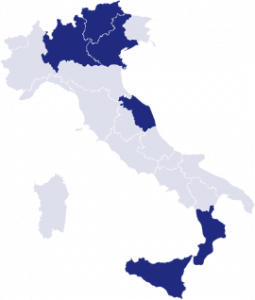 Why is it sometimes written on the packaging that the product is of foreign origin?
Small fruits are purchased abroad only during periods of the year when our producers cannot grow enough produce to meet market demand. We do this to give you access to our fruits all year round. You can rest assured that you will receive excellent quality fruits, cultivated only by strictly selected producers.
You can find all the details about the origin of the product on the label.
Purchasing
Where can I buy Sant'Orsola small fruits?
You can find our small fruits in the best supermarkets and fruit and vegetable shops.
For more information, you can write to us in the Contact page.
Do you have any dedicated stores?
Yes, we have two stores entirely dedicated to our products. Both are located in the province of Trento:
Sant'Orsola – Store in Zivignago
Via Lagorai 127, 38057 Pergine Valsugana, TN
Opening times
Monday 09:00-12:30
Tuesday 09:00-12:30 and 15:00- 18:30
Wednesday 09:00-12:30 Thursday 09:00-12:30 and 15:00- 18:30
Friday 09:00-12:30 and 15:00- 18:30
Saturday 09:00-12:30 15:00- 18:30
Telephone number
+39 (0)461 518103
Sant'Orsola – Store in Cirè
Via Per Trento, 11/E, 38057 Cirè di Pergine Valsugana, TN
Opening times
Monday 8:00-12:00 and 14:00- 18:00
Tuesday 8:00-12:00 and 14:00- 18:00
Wednesday 8:00-12:00 and 14:00-18:00
Thursday 8:00-12:00 and 14:00- 18:00
Friday 8:00-12:00 and 14:00- 18:00
Is it possible to order or buy Sant'Orsola products online?
You can order our small fruits online, at certain times of the year, on the Cortilia and Contadino Online platforms. If you do not find our products, write us: we will notify you when they are available again.
Certifications
What certifications do your company and products have?
You can find information about all our certifications on our dedicated page.
Environment and Sustainability
Do you treat your crops?
The phytosanitary treatments we use are limited to cases of extreme necessity. Our crops, in fact, are all regulated by the "Sant'Orsola Procedural Guidelines for Integrated Pest Management", in accordance with the national guidelines for integrated production, which limit the use of pesticides and fertilizers. To learn more and read the specifications, please visit our Nature and Know-how page.
Do your small fruits contain preservatives?
No, Sant'Orsola small fruits do not contain any kind of preservative.
Why do you use plastic packaging?
Plastic packaging allows us to preserve the freshness of our fruits and protect them. In addition, our packaging is made of environmentally-friendly recycled PET and is 100% recyclable. Find out more on our Certifications page.
Storage
How do you store your products on site?
We keep them in highly specialized refrigerated cells, ensuring that the cold chain is always respected.
Partnership
I am a chef/food blogger/influencer/nutritionist. Can I collaborate with you?
You can write to us via the contact page for more information.
How do you become a producer for Sant'Orsola?
You can write to us via the contact page for more information.
Il Villaggio dei Piccoli Frutti
What is Il Villaggio dei Piccoli Frutti and where is it located?
Il Villaggio dei Piccoli Frutti, located in Cirè in Pergine Valsugana, is our new home. On 7 April 2019, on the occasion of Sant'Orsola's 40th anniversary, we inaugurated our new production plant. To find out more about what will become the main European point of reference for small fruits, visit our dedicated page.
Can I visit Il Villaggio dei Piccoli Frutti?
Yes. Write to us on the Contact page for more information on guided tours.
Can I book and hire Sant'Orsola's Auditorium?
Yes. Our 500-seat Auditorium, equipped with a state-of-the-art audio-video system, can be booked and hired. You can visit the dedicated website for more information
Did you not find what you were looking for or would you prefer to speak to us directly? Go to the Contact page and send us a message. We will be happy to hear from you and will reply as soon as possible.
Contact us