As small as a walnut but as flavorsome as a kiwi. Our baby kiwis offer an explosion of flavor and sweetness to be enjoyed in a single bite. A small fruit that is as delicious as it is different. It's just waiting to be discovered.
Offering more than just a delicious taste
Nutritional values per 100 g
Baby kiwi is a small fruit naturally low in calories and fat, sodium free. A 100 g serving is rich in vitamin C, which contributes *:
to the normal functioning of the immune system
the maintenance of the normal function of the immune system during and after intense physical exertion
to protect cells from oxidative stress
to the reduction of tiredness and fatigue
the maintenance of the normal energy metabolism
to the normal functioning of the nervous system
the normal formation of collagen useful for the normal formation of blood vessels, bones, cartilages, gums, skin, teeth.
It is also an excellent source of potassium, which contributes *:
to the normal functioning of the nervous system
normal muscle function
to maintaining normal blood pressure
* as part of a balanced and varied diet and a healthy lifestyle.
Our Baby Kiwi
The baby kiwi, also known as the "hardy
kiwi" grows on a plant belonging to the Actinidiaceae family. This small fruit, which is slightly larger than a walnut, is not a small version of the more well- known kiwi, but a century old fruit in its own right.
In order to meet our quality standards, Sant'Orsola baby kiwis must be whole, evenly-shaped, clean and without any damage or marks on their surface. Their smooth, light-green skin is edible and the characteristic, sweet and enjoyable flavor of the fruit is similar to that of the kiwi.
The fruits, which are picked in small clusters, grow on climbing lianas which can reach up to ten meters in length. The flowers bloom in May and the harvesting season begins towards the end of summer. Originally a wild and self-seeded plant, it is only in recent decades that botanists have started to study it and produce new, completely natural varieties that are suitable for cultivation.
They are cultivated in accordance with the principles of "Integrated Production", which follow the current National Guidelines.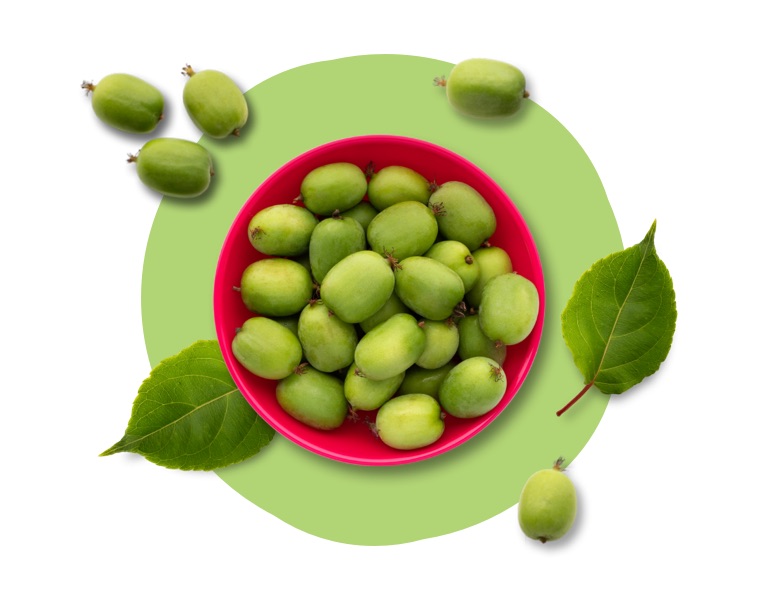 We are fragile, handle us with care! Keep in the fridge between +4° and +8° degrees and wash just before serving.
Jan
Feb
Mar
Apr
May
Jun
Jul
Aug
Sep
Oct
Nov
Dec
Our Fruits Family
Are you looking for the freshness of the raspberry, the contrasting sweet and sour flavors of the blackberry and the sophisticated taste of currants? Or do you prefer the blueberry's crispness or the comforting embrace of the strawberry?